Going multilingual is a great way to open your WordPress site to new audiences. But going multilingual also means basically doubling your site's content (or more, for multiple languages).
That means you'll want a WordPress translation plugin that doesn't just help you translate your content, but also makes sure that you're able to deliver your translated content without slowing down your site.
To help you find the fastest WordPress translation plugin that still offers the features that you need, we went hands-on and tested four of the most popular WordPress translation plugins.
Then, at the end of the post, we'll put all the data together and help you pick the plugin that's right for you!
The Four WordPress Translation Plugins That We'll Be Testing
There are a lot of WordPress translation plugins out there, but I'm going to specifically test four of them in this post:
WPML
Polylang
Weglot
TranslatePress
I chose these plugins because they are the most popular options, are accessible to the average WordPress user, and have solid feature lists.
Additionally, a lot of the other translation plugins are dynamic options that rely on Google Translate – for example, the Google Language Translator plugin that we featured in our collection of the best WordPress translation plugins.
While these plugins are super simple to use, you can't really performance test them because they're not creating any static content. That is, they just dynamically translate your content in a visitor's browser.
How I'll Be Testing These Four WordPress Translation Plugins
To run this test, I'll translate a single page from English to Spanish. For the text that I'm using, I just generated several paragraphs of filler text. There are no images, as I wanted to keep the test page as basic as possible.
Then, I'll run the translated Spanish version of the page through WebPageTest, and I'll also install the Query Monitor plugin to see what the plugin is doing under the hood.
My test site is…
Hosted on a $5 per month DigitalOcean droplet.
Using the free version of the Astra theme and the Travel Blog starter site, which is one of the fastest free WordPress themes.
Not using any performance optimization. Even though caching from WP Rocket would make a big difference, we want to see how each plugin does by itself.
Basically, other than the relevant translation plugin, the only other active plugins are Query Monitor and the basic plugins that come with the Astra starter site.
For reference, here's how the plain English version of the page fared before adding any translation plugin:
Median page load time (5 separate tests): 1.734s
HTTP requests: 22
File size: 146 KB
Database queries: 5
Now, let's get translating and see what happens…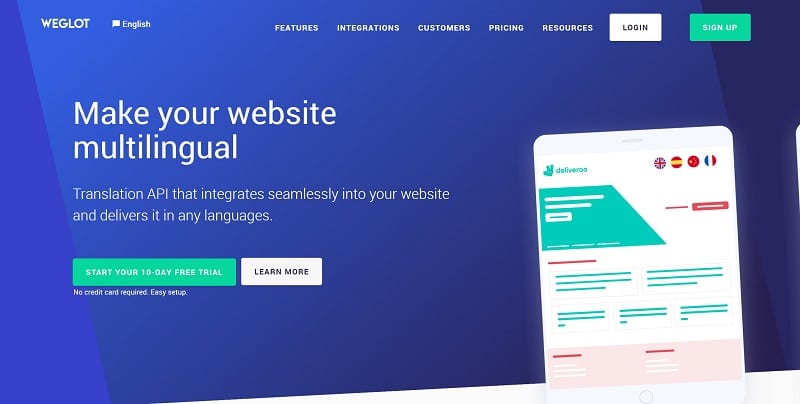 Median page load time (5 separate tests): 2.348 s
HTTP requests: 26
File size: 204 KB
Database queries: 2
Full test results at WebPageTest.
Weglot is a popular WordPress translation plugin/service that uses more of a SaaS-style approach. With the other three plugins, your translations live on your WordPress site's server.
However, with Weglot, they live on Weglot's servers and are delivered to your site via the Weglot plugin. I'm guessing this is why the database queries are so low – Weglot doesn't have to serve up the translated content from your WordPress site's database. Instead, it delivers it from the Weglot server.
So why would you want to go with this off-site approach? Well, it's super convenient. If you want the absolute simplest way to translate your WordPress site, I don't think you'll beat Weglot.
When you first activate the plugin, it uses automatic machine translation to translate your entire site. From there, you can go in and manually edit your translations via the Weglot cloud dashboard.
You get two different translation management interfaces – a PO-style editor, as well as a visual editor where you can click on a live preview of your website to translate content. Or, you also have the option to outsource your translations to professional translation services.
Weglot has a limited free plan for small sites. After that, paid plans start at €9.90 per month.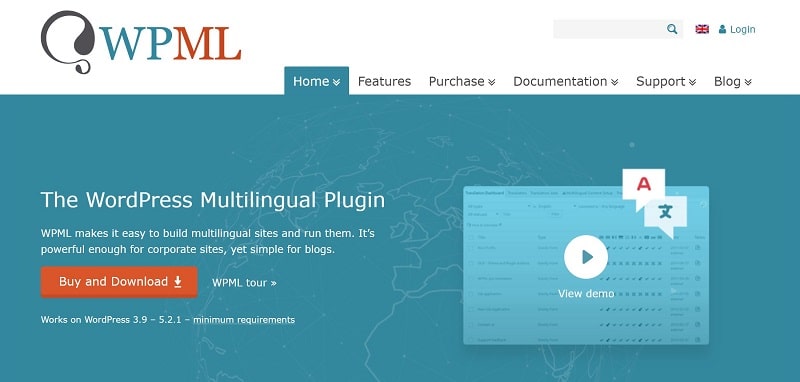 Median page load time (5 separate tests): 1.286 s
HTTP requests: 26
File size: 150 KB
Database queries: 26
Full test results at WebPageTest.
WPML is one of the biggest names in WordPress translation and offers a comprehensive way to manage your site's translations.
While WPML used to be exclusively focused on manual translation, its new Advanced Translations Editor lets you also use automatic machine translation on a content-by-content basis.
Beyond that, WPML can also help you outsource your content to professional translators or let you assign translations to specific WordPress users (great if you want to work directly with a translator).
While WPML does have a limited Multilingual Blog plan starting at $29, most sites will want to opt for the $79 Multilingual CMS plan for its extra functionality and flexibility.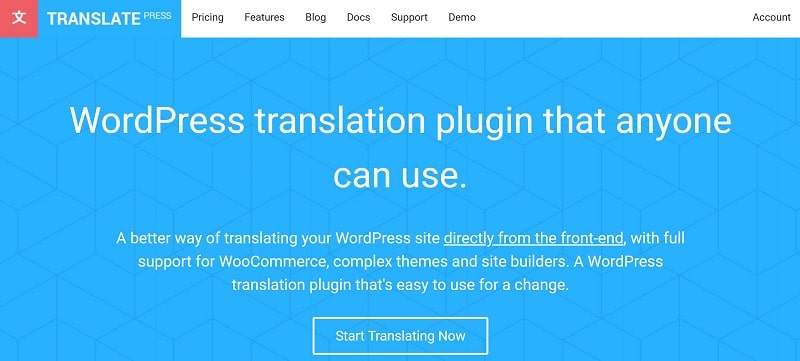 Median page load time (5 separate tests): 1.530 s
HTTP requests: 28
File size: 157 KB
Database queries: 30
Full test results at WebPageTest.
TranslatePress is a newer WordPress translation plugin that offers some of the same pros as Weglot, but in a self-hosted package (that is, everything stays on your WordPress site's server).
To get started, you can either manually translate your content or integrate with the Google Translate API to use machine translation.
From there, TranslatePress lets you manage your translations using a convenient visual editor that looks a lot like the WordPress Customizer. To edit any translation, all you need to do is click on it on the live preview of your site.
TranslatePress has a limited free version at WordPress.org. After that, paid plans start at €79, which is identical to WPML.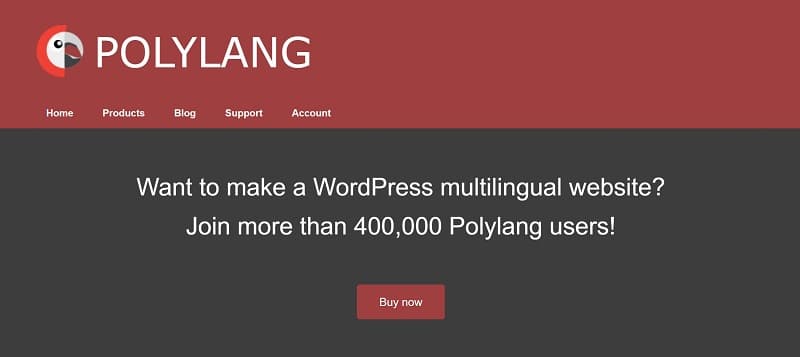 Median page load time (5 separate tests): 1.146 s
HTTP requests: 23
File size: 149 KB
Database queries: 4
Full test results at WebPageTest.
Polylang is a popular free translation plugin at WordPress.org. There are also some premium add-ons that can add more detailed translation support, as well as support for multilingual eCommerce.
In the core plugin, Polylang only supports manual translation. However, you can integrate it with the Lingotek plugin from the same developer to get access to automatic machine translation or professional translation services.
You can get started with Polylang for free. After that, Polylang Pro starts at €99.
What's the Fastest WordPress Translation Plugin?
Based on these tests, three plugins that seemed to perform the best are:
Polylang
WPML
TranslatePress
Additionally, Weglot still kept the page size quite small, which leads me to believe that some smart caching could get those page load times even lower, as it seems like the connection to the Weglot server might've been what caused the dip in page load times (caching would eliminate that by storing your translations locally in the cached version of each page).
Let's recap so that you can see everything side-by-side:
| | | | | |
| --- | --- | --- | --- | --- |
| Plugin | Med. Load Time | Requests | Page Size | DB Queries |
| None | 1.734 s | 22 | 146 KB | 5 |
| Weglot | 2.348 s | 26 | 204 KB | 2 |
| WPML | 1.286 s | 26 | 150 KB | 61 |
| TranslatePress | 1.530 s | 28 | 157 KB | 30 |
| Polylang | 1.146 s | 23 | 149 KB | 4 |
And no matter which translation plugin you use, WP Rocket can help you deliver your translated content as quickly as possible. WP Rocket is certified compatible with WPML, and it will also work great with TranslatePress and Weglot as well.
If you're using Weglot, WP Rocket's caching approach will also save you money, as pages served from WP Rocket's cache won't count against Weglot's monthly page view limit.
Any questions about the best WordPress translation plugin for your site? Ask away and we'll try to help!
The post Finding the Fastest WordPress Translation Plugin: Real Tests appeared first on WP Rocket.